EDUCATION
Education in Hawke's Bay
Hawke's Bay schools and institutions are focused on providing the best possible education which will give all students a great start in their quest to conquer life's challenges.
We provide education from early-childhood to post-graduate levels.
Our schools offer a broad range of academic subjects along with the opportunity to take part in sporting and cultural activities outside the school hours of 9am to 3pm – such as orchestra, theatre, music and dance groups and sports.
Students have the choice of single-sex or co-educational (combined sexes) schools, and some schools have boarding facilities. State schools are secular (non-religious/ spiritual), and some schools have religious background.
For more information about the Hawke's Bay region, visit https://hongi.co.nz/region/hawkes-bay/, and for general information about studying in New Zealand, visit https://hongi.co.nz/study/
Education in New Zealand
The New Zealand Curriculum has eight Learning Areas: English; Mathematics and Statistics; Science; Social Sciences; Health and Physical Education for your own well-being and for others around you; The Arts, including Dance, Drama, Music and Visual Arts; Technology, including engineering, construction, soft materials, food and computer; Learning Languages such as Te Reo Maori, Mandarin, Latin, Spanish and French.
The curriculum lists seven core values: Excellence; Innovation inquiry and curiosity; Equity; Community and participation; Ecological sustainability; Integrity; Respect.
For more information, please check out individual schools for a full list of subjects offered.
New Zealand School Qualifications
New Zealand has a unified system of qualifications called National Certificate of Educational Achievement (NCEA), controlled by the New Zealand Qualifications Authority (NZQA).
The certificate has three academic levels at secondary schools – Level 1 at Year 11 (usually 15years of age); Level 2 at Year 12 (16 years) and Level 3 at Year 13 (17 years).
Some of our schools also offer international qualifications, such as International Baccalaureate.
Pastoral Care of International Students
We care about the well-being of our international students and do our best to ensure they have a positive experience while studying with us. All schools enrolling international students must comply with the government regulations known as the Education (Pastoral Care of International Students) Code of Practice 2016. These regulations set out required outcomes and key processes for schools, institutes and education agents when dealing with international students. One of the responsibilities is arranging accommodation. Some schools have excellent boarding facilities where senior secondary school students have their private rooms. There are also plenty of homestay opportunities.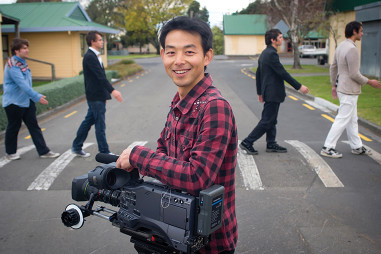 "We do all kinds of field-trips, so school's actually fun. That's new for me!"