Case Studies & Testimonials
Akihiro Namioka
New Horizon College of English – Japanese student
There are two main reasons why I left Japan. The first one is that I wanted to study English for job-hunting because I am a university student in Japan so it is clear that I will have to do that in the very near future and a lot of companies will require students to have some English skills.
The second one is that I wanted to have a lot of new experiences because I suppose that I can become more worldly if I do. So I decided to go abroad. Also, I had never been to foreign countries before I came to New Zealand so I thought it must be a good way to have new experiences if I go to a foreign country.
I had some options of foreign countries to go to. However, I chose New Zealand. First, I picked New Zealand out of some English-speaking countries because I think that the people in New Zealand are quite kind and this country is one of the safest countries in the world. In addition, I like the beautiful natural environment in this country. After that, I chose Napier because this city is not too big so I thought I could concentrate on my studies without feeling too much stress. I had also heard that homestay families had a good reputation for being kind and welcoming. That is why I came to Napier, New Zealand.
I have experienced a lot of things since I came here, such as going to famous places with friends that I made here and with my host family. For example, we went to Shine Falls, an impressive waterfall we visited after a scenic drive and a peaceful bush walk. I've also enjoyed visiting wineries and tasting some of the wines that Hawke's Bay is famous for. And of course, like all students and visitors to Hawkes Bay, I loved going to the top of Te Mata Peak and admiring the spectacular 360 degree view that shows everything that Hawke's Bay has to offer – rivers, mountains, farmland, towns and the ocean.
I've really enjoyed making friends with people of so many different nationalities, backgrounds and mother tongues.. And I have also been able to concentrate on my studies because of the city, my school and my host family.
So I'm 100% sure that my choice of coming to Napier and Hawke's Bay was the best.
Anna Tsuji
Napier Girls High School – Japanese student
I came to NZ in 2013.
I have benefited by greatly improving my English as well as making lots of new friends. I have also passed NCEA Level 1 and 2 and I hope to pass Level 3 this year.
Our school has benefited from us too, because they know a lot more about our culture now. They also take more interest in events and issues that happen in our home countries, so they have become more global citizens.
They also like the lollies we bring them after our trips home!
The things we really like in New Zealand are the supermarkets- they sell many more things compared to in Japan. We also like being able to see the stars at night.
Jiangyan Chen (Jason)
Eastern Institute of Technology – Chinese Student
Jiangyan Chen completed a Diploma in Screen Production at EIT (Eastern Institute of Technology) and is now working in Auckland. He won the Pania Award in 2015 – this award is given annually for the Diploma's top student. To read more about his achievements, go to:
http://www.eit.ac.nz/2015/lwebster/study-areas/arts-and-design/film-student-wins-pania-award/
1. When did you arrive in Hawke's Bay?
I came to New Zealand in February 2014
2. What and where did you study?
I studied the Diploma in Screen Production course at Eastern Institute of Technology.
3. How did you choose to come and study to choose in Hawke's Bay?
I heard about New Zealand from one of my friends when I was in Beijing, China. He said to me that 'NZ is a very good place to study and the sceneries there are beautiful'.
4. What are your favourite things about studying and living in Hawke's Bay?
Gorgeous weather in Hawkes Bay, nice seashore and beaches. I really like the tranquil environment here, which can make you feel peaceful and you can focus on the things you love. There are patient, lovely tutors at EIT and kind, gentle people living here too.
5. Have you experienced any of the activities that Hawke's Bay offers?
I went to Napier's Art Deco weekend.
Anne Rinck
Hastings Girls High School – German Student
Hastings Girls' High School has the most amazing choices of subjects, and the equipment in Photography and Food Technology are the best.  It was great that I could study subjects which are not available to me in Germany, such as Textiles Technology, Visual Arts and Design and Painting and Printmaking.  The Music Suite has five pianos and guitars, so we could practise at any time.  I love the atmosphere amongst the New Zealand girls and I've made many friends.  I was very lucky to receive the International Cup for Academic Excellence at the end of my stay.  My host Mum is a great cook and I will miss the mince pies!
Hayaka Kifune
Hastings Girls High School – Japanese Student
I am Hayaka from Japan and I stayed one year at Hastings Girls' High School.   My homestay family was kind, cheerful and we were always laughing.  They taught me many New Zealand words.  My homestay Mum was a very good cook and I loved the Kiwi food.   They showed me lots of places and I will always remember them.  At school I joined the School Band and played the trumpet. I also had lovely New Zealand friends at school and they helped me with my English.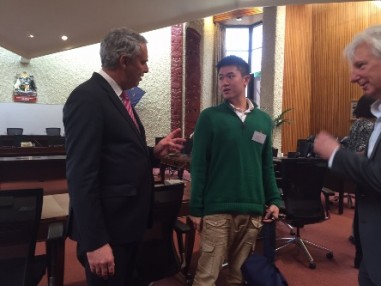 Akihiro speaking with Hastings Mayor, Lawrence Yule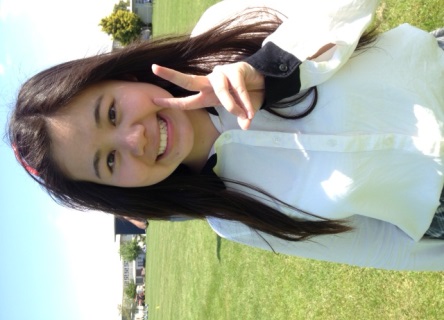 Anna Tsuji from Napier Girls High School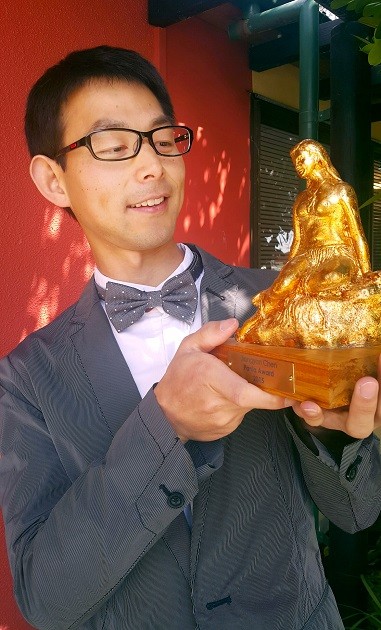 Jiangyan Chen received his Pania Award in 2016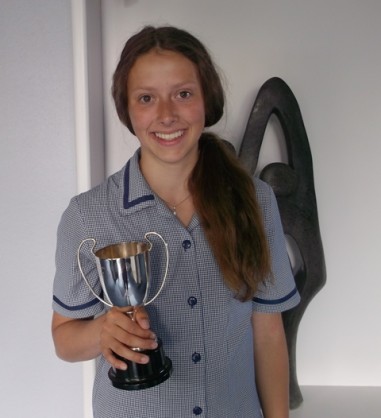 Ann Rinck with her Cup for Academic Excellence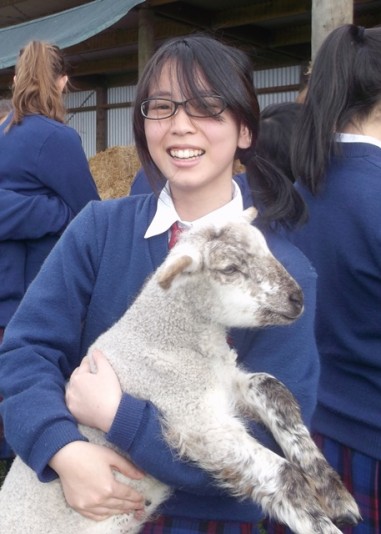 Hayaka with a NZ Lamb